A residential postdoctoral fellowship in the history of institutions and economies of oppression; the first award of this fellowship was  supported by expending the OI's Ronald Hoffman Fund. (We are suspending the award of this fellowship until further notice.)
---
The Omohundro Institute and the William & Mary Lemon Project: A Journey of Reconciliation were pleased to welcome inaugural OI-Lemon Project Fellow Vineeta Singh for a two-year postdoctoral fellowship, 2018-2020, in the history of institutions and economies of oppression with a preference for higher education and slavery.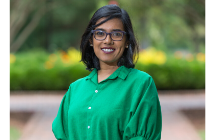 Ms. Singh completed her Ph.D. in Ethnic Studies at the University of California, San Diego. Upon accepting the OI-Lemon Project fellowship she said, "I am excited to bring my research on race, racism, and U.S. higher education to William & Mary and to build new classes and community programming with the Lemon Project and the Omohundro Institute."
As OI-W&M Lemon Project Fellow, Ms. Singh devoted most of her time to research and writing, and also worked closely with the OI and Lemon Project staffs and participated in colloquia and other scholarly activities of the OI and W&M. She developed and taught a course on the subject of her research (Whose University? A People's History of U.S. Higher Ed)  as well as honed her digital humanities skills and contributed to the intellectual life of the Lemon Project through the Project's Omeka site and university website.
Her contributions to the OI and W&M community were very much appreciated and her presence will be missed.
---
The Omohundro Institute is a leading research organization for the study of early America, broadly conceived. The publisher of books and the William & Mary Quarterly, the OI hosts conferences, seminars and other events and sponsors a range of predoctoral and postdoctoral fellowships.
Founded in 1693, William & Mary has been an important political and social force, both reflecting and giving shape to ideas of freedom, slavery, race, equality, and citizenship in Virginia and the nation. While William & Mary's role in the nation's founding has been widely studied, its study of the university's role in perpetuating slavery and racial discrimination is relatively recent. In 2009 W&M's Board established The Lemon Project: A Journey of Reconciliation, a multifaceted and dynamic attempt to rectify wrongs perpetrated against African Americans by the College through action or inaction. An ongoing endeavor, this program focuses on contributing to and encouraging scholarship on the 324-year relationship between African Americans and W&M, and building bridges between the university and Williamsburg and Greater Tidewater area. The Lemon Project is named for Lemon, a man who was once enslaved by William & Mary. The OI-W&M Lemon Project Postdoctoral Fellowship is supported by the Ronald Hoffman Fund in Honor of the OI's Director Emeritus.