The Omohundro Institute of Early American History & Culture appreciates the generosity and dedication of its donors to its mission of supporting the community of early American scholars and their work to give voice to the past since the OI's 1943 founding. Annual support from Omohundro Institute Associates and gifts directed to fund specific projects and programs help the OI continue its tradition of supporting excellence in early American scholarship and exploring new initiatives to enhance this mission.
Thank you!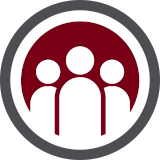 Associates support the OI's role in encouraging and advancing the study of early America by making annual contributions to the OI. Gifts from OI Associates sustain the programs at the high level of scholarly excellence that is the OI's hallmark and enable us to respond creatively to new opportunities that invigorate the early American field. Eight levels of support are available.
Gifts to the OI Programs Fund help support the costs associated with the OI's conferences, workshops, lectures, and programs, both virtual and in person, for the OI's community of scholars.


Gifts to the OI Fellowship Fund support scholars at all career stages from predoctoral through postdoctoral levels.
Gifts to the OI Digital Projects Fund support cutting edge digital programs for scholars and the public, including Ben Franklin's World, Doing History, the OI Reader, Colonial Virginia Portraits, the Georgian Papers Programme and Commonplace.

For More Information or Questions
Please contact the OI at oi-support@wm.edu with questions, login support, or for more information about how to make a gift to the OI.