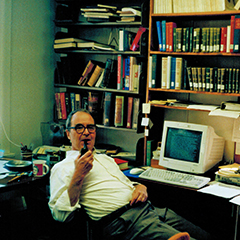 Gil Kelly served as Managing Editor of Publications from 1983 to 2013.

Remembering Gil Kelly
Gil taught me editing in the Editorial Apprenticeship Program at the Omohundro Institute, one of the best summers of my life, including travels in publishing he'd arranged around Virginia and North Carolina, accompanied by his many tales, observations, and puffs on his ever-present pipe.
Long after graduation, we exchanged Christmas cards and phone calls now and then and I would see him whenever I was in town; I think Gil found it rather fascinating that I'd come all that way to enjoy seeing my graduate school's old haunts and to have a beer with him. He would always proudly update me on what was happening with his daughter.
I always found Gil's manner of table talk charming and edifying. It's too bad words can't quite capture his inimitable drawl or his way of delivering a line you're not quite sure is a joke and waiting for it to sink in.
Gil taught me editing, one of the skills I am proudest of, and was a great comrade in intellectual pursuits as well as simply being a great friend to spend time with. He is the only person I can call a mentor, and I will miss him dearly.
My condolences to his family, his friends, and his colleagues at OI and W&M,
Stephen Constantelo
Chicago, IL
OI Editorial Apprentice 1993–1994