By Carla Gardina Pestana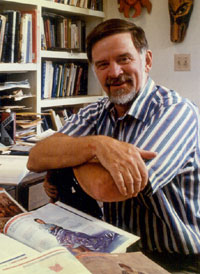 Gary Nash was born in Philadelphia on 27 July 1933 and grew up in the upper middle-class suburbs of that city. He died in his home in Los Angeles on July 29, 2021. As an undergraduate at Princeton, he met Richard S. Dunn, who served as the preceptor in Frank Craven's Colonial American History course. Richard reports that Gary was engaged and diligent, led the discussion, and got the only A, despite being generally an indifferent student. Gary then took a break to serve as a naval officer, before returning to Princeton to pursue his doctorate under Craven's direction. After teaching for a year at Princeton, in 1966 he joined the faculty at UCLA, where he remained for his career.
Over the course of a very prolific career, Gary produced dozens of books: monographs both authored and co-authored, textbooks, edited collections. They were all written with flare and grace. His work ranged widely across the history of Quakers in early America; race, race relations, and African American history; and the American Revolution. Almost invariably, he pursued subjects appropriate to a colonial American historian interested in the origins of the United States. In that regard, he did not pursue the trends toward Atlantic or global history, but remained engaged in seeking instead the colonial legacies that shaped the United States. As he said in the introduction to Race, Class and Politics: Essays on American Colonial and Revolutionary Society (1986), he hoped his work contributed to the project of "wrestling with the awesome problems of contemporary American life." The conviction that understanding the past can help to address the inequities of the present ran through all his contributions to the profession.
The study of Quakers began and closed his career. Gary's dissertation (and later his first book: Quakers and Politics: Pennsylvania, 1681-1726 [1968]) explored the political battles and compromises among the Quakers who founded Pennsylvania. Jon Butler recently explained that reading this work when he was in graduate school shaped what he tried to do. Gary's final work which was in production at the time of his death is a study of Public Friend and anti-slavery advocate Anne Emlen (1755-1815): "Our Beloved Friend: The Life and Writings of Anne Emlen Mifflin." Co-authored with Emily Teipe, "Our Beloeved Friend" includes her journal and many of her letters, a fitting companion piece to Gary's last sole authored book, Warner Mifflin: Unflinching Quaker Abolitionist (2017). The early work dealt with Quakers without much regard for Quakerism per se, but more recently he explored questions of faith and the challenges of living a life guided by the inward light.
Gary's attention to race in early America has ranged widely but began with his path-breaking Red, White, and Black: The Peoples of Early America (1974). For younger scholars, it might be difficult to capture the shockwave that book generated, with its insistence that early American history can only be understood as the interaction among three groups, Natives, Europeans, and Africans. A host of other books addressed the history of African Americans, including Forging Freedom: The Formation of Philadelphia's Black Community, 1720-1840 (1988), on which I served as one of his research assistants while a graduate student, going through roll after roll of semi-legible microfilm. His Race and Revolution (1990) was based on the inaugural Merrell Jensen Lectures in Constitutional Studies which Gary delivered in 1988; it is only one of a number of his books that colleagues, including Chris Brown at Columbia, routinely assign to students. At the time of his death, Gary was working, along with his two co-authors Clayborne Carson and Emma J. Lapsansky-Werner, on the fourth edition of The Struggle for Freedom: A History of African Americans (2007).
Gary's contributions to the study of the American Revolution were varied, but his signature contribution was the 1979 The Urban Crucible: Social Change, Political Consciousness and the Origins of the American Revolution. Comparing three urban centers—Boston, New York, and Philadelphia—in the years leading up to and during the revolution, he showed how economic crisis helped to galvanize ordinary urban dwellers to engage in revolutionary politics. A signal contribution to New Left historiography, it continued a line of inquiry associated with scholars such as Jesse Lemisch and Al Young.
In addition to his research-based scholarship, Gary was a fierce advocate for history education. His involvement in the controversies surrounding the National History Standards, which pitted him against Lynne Cheney and all those who want history taught as a simple and patriotic tale of U.S. exceptionalism, are well known. Serving as the public face for maligned history educators was only one aspect of his commitment. In his retirement from UCLA, he oversaw the Center for History in the Schools which promoted U.S. history and World history education. He participated in curricular revision at UCLA and more widely. He hosted workshops for teachers for decades, for which he became well known and much beloved among K-12 teachers. Himself a magnificent lecturer, he won UCLA's prestigious Distinguished Teaching Award (1990). He joined with other colleagues to produce a history textbook, The American People, which took the perspective of the experience of ordinary Americans to tell the story of the United States. Ever a voice for teaching that is engaging and challenging, he firmly believed it was the educators' responsibility to help student become informed citizens able to defend American democracy and the nation's best ideals. He frequently counseled his graduate students to work where they could do the most good and was equally proud of the much-published scholars who worked at prestigious institutions as those who taught passionately and well in community colleges. Weeks before his death, he spoke on a "Checks and Balances" podcast for The Economist about history education, demonstrating his continued commitment to the cause. He loathed seeing university education become more costly with falling state support and opposed UCLA's decision to limit its incoming class of history PhD students. He wanted UCLA to remain the state school open to all that it had been when he first joined the faculty in the mid-1960s. His work for the National Park Service was similarly related to this democratic educational impulse: NPS sites in Philadelphia, such as the Liberty Bell and the President's House, were presented in a more inclusive way as a result of his interventions.
This commitment to education also led Gary to support the work of other scholars. At the time of his death, numerous people reached out to explain how Gary had encouraged and supported them during their careers. He was an incomparable editor of other people's work, and anyone who could get him to wield his red pen on their behalf was fortunate. A few months before his death, I saw Gary—always interested in what others were working on—deep in conversation with one of my junior colleagues upon meeting her at a party. I have no doubt had he lived, they would have engaged in many such discussions moving forward.
Gary was a passionate advocate for racial and economic justice as well. He attributed his move to California in the mid-1960s to his political awakening. He noted that the period was fraught with protests and the possibilities for change, and he threw himself into the struggles. He supported Angela Davis through the effort to fire her for being a communist, heading the Angela Davis Defense Committee. He worked for integration of housing and businesses in Los Angeles. He allied with Hayden White on his suit to prevent plainclothes police from infiltrating the UCLA campus.
Gary Nash frequently published in The William and Mary Quarterly and served on the Institute Council in 1989-92. Omohundro Institute Director Karin Wulf reminded us of his many WMQ contributions in a twitter thread following his death: https://twitter.com/kawulf/status/1421076157127176195.
Gary was a much-published author, a president of the Organization of American Historians, and an elected member of the American Academy of Arts and Sciences among other bodies. What he cared about most deeply, however, was telling the stories that honored the struggle to help realize the promise of America.
It is difficult to believe that the boundless energy that produced all those books, participated in all those political struggles, and supported all those junior colleagues and teachers is no more. All of us who benefited from his work and his care can attest to his lasting impact on the profession and on our lives.
—Carla Gardina Pestana
Distinguished Professor and Joyce Appleby Endowed Chair of America in the World