NEH Postdoctoral Fellow (2020–2022)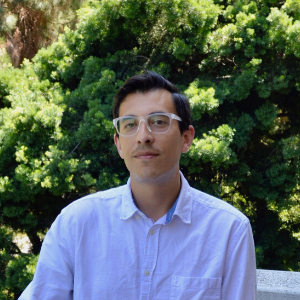 John C. Marquez is a historian of Latin America and the Atlantic world, with research interests in slavery and freedom, race, archives, and the African diaspora in Brazil. He received his B.A. in History from California State University, Long Beach and M.A. in American Studies from California State University, Fullerton. In 2019, he received his Ph.D. from the University of Illinois, Urbana-Champaign. He is currently a Chancellor's ADVANCE Postdoctoral Fellow at the University of California, Irvine, and his research has been funded by the Fulbright-Hays, the Conference on Latin American History, and the Illinois Program for Research in the Humanities. He is currently working on his book manuscript, tentatively titled Freedom's Counterarchive: Africans, Law, and Empire in the South Atlantic World. In addition to his research, Dr. Marquez is committed to advancing diversity in higher education and mentoring students from historically underrepresented communities.
Project description by John C. Marquez
Freedom's Counterarchive: Africans, Law, and Empire in the South Atlantic World explores how Afro-descendants across Brazil, Portugal, and Angola experienced, envisioned, and claimed freedom within a slaveholding empire. Focusing on the eighteenth century, a period of slavery's immense growth and entrenchment in the South Atlantic, it examines what I call "counterarchives" of freedom. I argue that such counterarchives allowed enslaved people to make novel claims for limited rights within empire while also unsettling the racial and gendered narratives of colonial society. They also served as repositories for enslaved peoples' knowledge about the law and for their visions of freedom within and beyond slavery. That enslaved women and men under conditions of exile, fugitivity, violence, and scarcity seized upon often far-flung, geographically dispersed archives, and fashioned their own for contrary purposes, speaks to the power of the counterarchive as a new site for understanding freedom in vast early America.
Dr. Marquez will defer the starting date of his residency with the OI until summer 2021 to allow time to begin his new appointment at Colorado College in summer 2020.