Join us Saturday, May 4
for a lecture by
Joyce E. Chaplin
"Climate in Words and Numbers: How Early Americans Recorded Weather in Almanacs"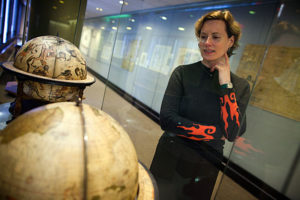 We are pleased to announce that Joyce E. Chaplin will deliver the 2019 Council Lecture, "Climate in Words and Numbers: How Early Americans Recorded Weather in Almanacs," at 3:30 on Saturday, May 4, 2019, in Blow Hall, room 201, on the campus of William & Mary. A short reception will follow. The event is open to all.
With support from the Guggenheim Foundation, Professor Chaplin is constructing a database of manuscript notes about weather in early American almanacs, from 1659 to 1820. Her talk draws from that work, focusing on how people recorded their impressions about weather in both numbers (including degrees Fahrenheit) and in words, with subjective descriptions ranging from "dull" to "elegant!" These notations are significant as records of a period of climate change sometimes described as the Little Ice Age, also as records of how people made sense of and coped with that climatic disruption.
Professor Chaplin is the James Duncan Phillips Professor of Early American History at Harvard University. Her books include An Anxious Pursuit: Agricultural Innovation and Modernity in the Lower South, 1730-1815 (published by the Omohundro Institute with the University of North Carolina Press in 1993), Subject Matter: Technology, the Body, and Science on the Anglo-American Frontier, 1500-1676 (2001), and The First Scientific American: Benjamin Franklin and the Pursuit of Genius (2006). She is also the editor of Benjamin Franklin's Autobiography: A Norton Critical Edition (2012). Her reviews and essays have appeared in the New York Times Book Review, the London Review of Books, and the Wall Street Journal. Professor Chaplin's most recent book is the first history of around-the-world travel, Round about the Earth: Circumnavigation from Magellan to Orbit (2012). She served on the OI Council from 1994 to 1997.
Organized by the OI Director and the Chair of the OI Council, the Council Lecture series reflects the Omohundro Institute's ongoing commitment to excellence in early American scholarship. It is meant for both scholarly and non-scholarly audiences. No admission is charged and an informal reception follows the event. All speakers in the series have served on the Omohundro Institute Council—service for which we are enormously grateful.
PREVIOUS LECTURES
2018
Robert C. Ritchie delivered When Did We Start Going to the Beach?: Some Thoughts on the History of Leisure in early America.
Robert C. Ritchie specializes in Early American history. His focus has been on the seventeenth century but he also has a strong interest in early modern England. After a distinguished career at the University of California, San Diego which included stints as a professor in the History Department and as Associate Chancellor, he became the W.M. Keck Foundation Director of Research at The Huntington Library. He retired from that position in 2011 and is now Senior Research Associate there.
2017
Peter C. Mancall, Andrew W. Mellon Professor of the Humanities at the University of Southern California and the Linda and Harlan Martens Director of the Early Modern Studies Institute delivered "Art and Violence in Early North America."
2016
Mary Kelley, Ruth Bordin Collegiate Professor of History, American Culture, and Women's Studies at the University of Michigan, and author, co-author, and editor of eight books including Learning to Stand and Speak, delivered "The Difference of Color."
2015
Mary Beth Norton, Mary Donlon Alger Professor of American History at Cornell University and the author or co-author of numerous books, including the popular textbook A People & A Nation, delivered "The Seventh Tea Ship; or, a Tale of Shipwrecked Sailors, Combative Communities, and a Fractured Family."
2014
Alan Taylor Thomas Jefferson Foundation Chair in the Corcoran Department of History at the University of Virginia, and the author of seven monographs, including the Pulitzer Prize winning William Cooper's Town: Power and Persuasion on the Frontier of the Early Republic and the National Book Award Finalist The Internal Enemy: Slavery and War in Virginia, 1772-1832, delivered "The West and the American Revolution: Causes and Consequences."