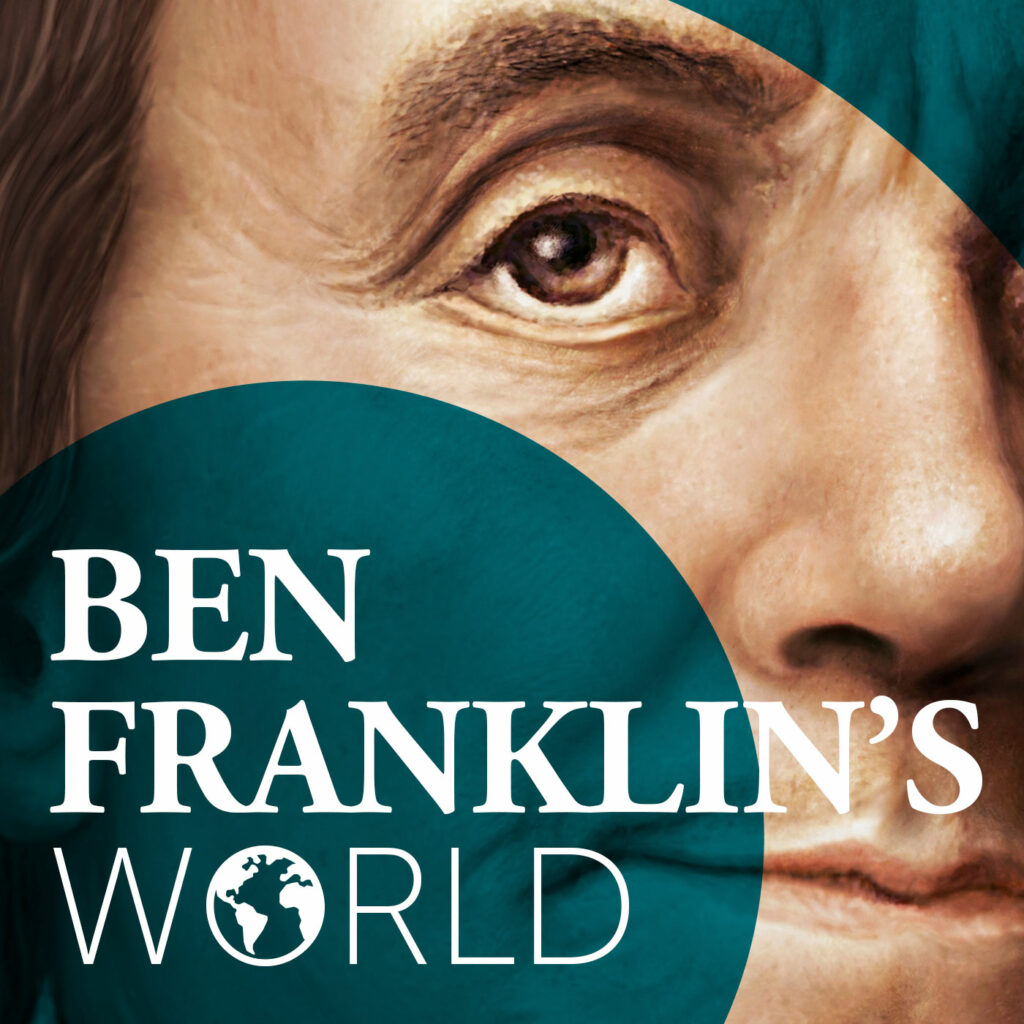 The Omohundro Institute is excited to announce a new phase for the Ben Franklin's World podcast: in 2023, BFW will join Colonial Williamsburg's new Innovation Studios under the direction of Mia Nagawiecki. Both creator and host Liz Covart, currently Digital Projects Editor at the OI, and Holly Stevens White, currently Assistant Editor, Digital Projects and OI publications, will move into new, expanded facilities in Colonial Williamsburg. William & Mary and the Colonial Williamsburg Foundation are the primary sponsors of the OI. W&M is home to the nation's top-ranked graduate program in early American history and culture. The Colonial Williamsburg Foundation oversees the premiere living museum of early American history.
"We have been gratified to see Ben Franklin's World come into its own at the Omohundro Institute, especially via the Lapidus Initiative, and we're delighted to cheer its continued development as part of Colonial Williamsburg's new Innovation Studios," says Catherine E. Kelly, executive director of the Omohundro Institute.
Colonial Williamsburg President and CEO and Omohundro Institute Board Member Cliff Fleet said, "Colonial Williamsburg is the world's largest American history museum. With that comes a responsibility to provide audiences across the country and the world with accurate, engaging and relevant programming of the highest caliber. The Foundation is fortunate to have institutions like the Omohundro Institute and William & Mary in such close proximity. The Ben Franklin's World podcast is an example of the quality content that can be produced when likeminded organizations work together toward a common purpose."
Ben Franklin's World debuted in 2014. Liz Covart, a graduate of the University of California Davis PhD program, wanted to create a show "for people who love history and for those who want to know more about the historical people and events that have impacted and shaped our present-day world." With a back catalog of over 300 episodes, BFW since has been downloaded over 10 million times.
Thanks to financial support from the Lapidus Initiative, the OI began producing series on the podcast in 2016 and then brought Liz on board full-time in 2017. Colonial Williamsburg has helped support the show since 2020. With Liz Covart at the mic and the intellectual input of Karin Wulf (who was then the executive director of the OI) and others, the show expanded from a primarily one-on-one interview format to thematic series such as the four Doing History series, with episodes featuring multiple experts, on-site sound recordings, re-enacted historical readings, and more.
Presidential Liaison for Strategic Cultural Partnerships at William & Mary Ann Marie Stock says, "The partnership of Colonial Williamsburg, William & Mary, and the Omohundro Institute, just one year in the making, has already generated some great collaborations—among them the 'For 2026' conference series. We are thrilled to see Ben Franklin's World grow and anticipate even greater impact as the show expands its reach to new audiences."